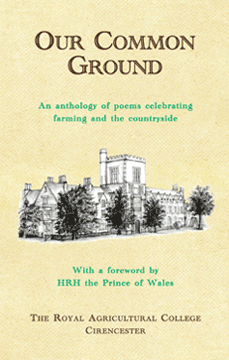 "What happens when you combine Britain's best-loved poets, some of the loveliest lines ever written about the countryside and a few wise words from the Prince of Wales? The answer is an enthralling new book called Our Common Ground..."
Vernon Harwood, BBC Radio.
"This fine anthology... draws together many of the most loved poems about the countryside... a truly rounded collection."
Land & Business magazine.
"Many thanks indeed for... your gorgeous anthology. What production values! And an attentiveness to detail and precision that's getting rarer and rarer. This is how poetry publishing ought to be managed: with thoroughness, accuracy and minimum fuss."
Mario Petrucci, poet
Our Common Ground
An anthology of countryside poems
This book is a poetic celebration of the richness and diversity of the British countryside and its rural traditions, including farming. It is published by Silverdart in association with The Royal Agricultural University (formerly The Royal Agricultural College).

More than 100 poems from 82 modern and traditional poets, including Brian Patten, Roger McGough, Ted Hughes, Andrew Motion, Seamus Heaney, William Shakespeare and John Keats, are brought together to provide a diverse and accessible collection of responses to the beauty and power of 'our common ground'. The book was first published privately for the benefit of the RAU's students - and is available to the wider public.

Foreword by HRH The Prince of Wales

Published by Silverdart Publishing, February 2011
ISBN: 978-0955458163
Paperback, 160pp
RRP: £9.99 (p&p extra - see below)
---
Buy this book now!
You can purchase this book by credit/debit card or with your PayPal account by clicking the 'Buy Now' button below. The retail price of the book is £9.99, and the costs shown on the dropdown menu below include Postage and Packing costs for shipment, depending on location.
The purchase options are:
1 book shipped within UK: £9.99 plus £1.76 p&p = £11.75
1 package of 2 books within UK: £18.98 plus £2.14 p&p = £21.12
1 package of 3 books within UK: £27.97 plus £3.45 p&p = £31.42
1 book to Europe: £9.99 plus £4.36 p&p = £14.35
1 book to Rest of the World: £9.99 plus £6.00 p&p = £15.99

Choose your option below and click 'Buy Now'.
For any other purchase options - or for any queries - please contact us at: Tel: +44 (0)1285 831 789 or by email to info@silverdart.co.uk
PLEASE NOTE: If you are purchasing a package of two or three books - when Paypal asks to confirm quanitity, please leave this at '1' because this refers to the package, not to the number of books. Thank you!
---
Thank you very much for your interest in this book, please consider Silverdart in future for any of your publshing needs. We are a small independent publisher and are pleased to help you with any relevant project you may have.